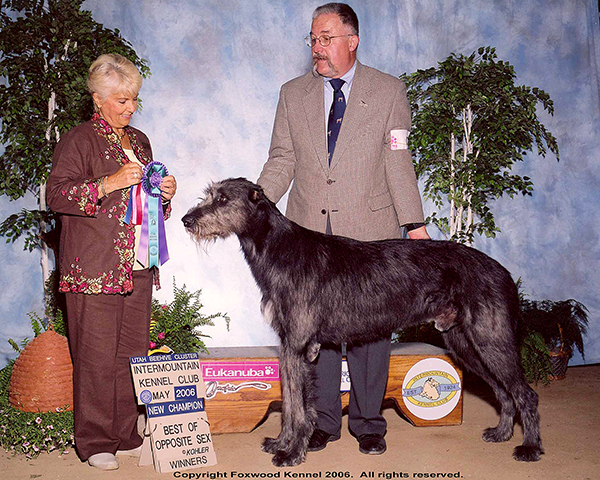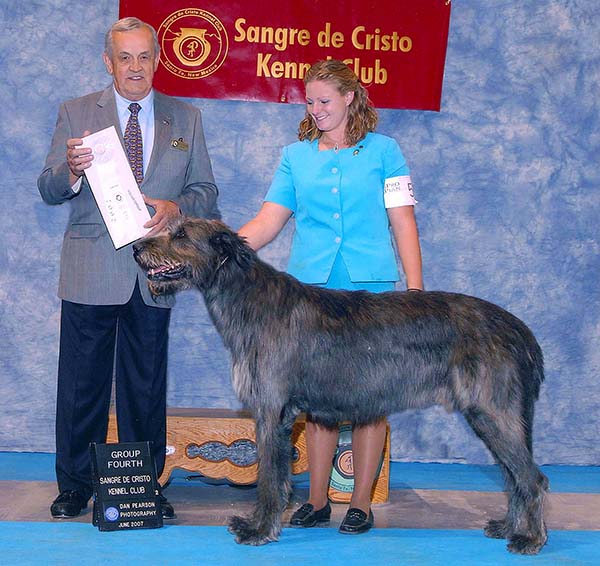 Captain went Group 4 under Judge Col. Joe Purkhiser
at the June 17, 2008 Sangre de Cristo show for his first Group Placement!
Date of Birth: January 05, 2005 • Died: February 01, 2009
Full Dentition/Scissors Bite
Black Male • Intact
Eyes Cleared yearly
Height: 36 inches
DNA Profile: V402206
OFA Rating: Hips: Good (IW-1646G33M-Pl) • Elbows: Normal (IW-EL308M33-Pl)
Captain, my Captain, what ARE you into now? The big black boy seems to have adjusted and now considers the house and yard (and maybe the world) his personal entertainment zone. Although he has reached an understanding with the matriarch of our hounds, Trella, he believes that Ros was put on this earth solely for his entertainment. Of course, the Champion Princess Ros occasionally feels otherwise and has tattooed his nose more than once. Since arriving here in New Mexico, (yes, we are part of the U.S., just look for the blank space between Texas and Arizona on your TV weather map) Captain has added a Best of Breed and another Best of Winners, along with 2+ inches and 20-some pounds. We are looking forward to his future in a number of venues.Captain completed his AKC CH At 15 months with limited showing (Captain is loved and co-owned by Kathy Verble of Manasota Kennels)
Unfortunately, Captain was diagnosed with osteosarcoma in January of 2009 and we lost him February 1, 2009 on Superbowl Sunday. He has left a giant sized hole in our hearts and miss him terribly.
In memory of "Captain" and of "Thor", we are funding an osteosarcoma/hemangiosarcoma cancer study through Morris Animal Foundation.