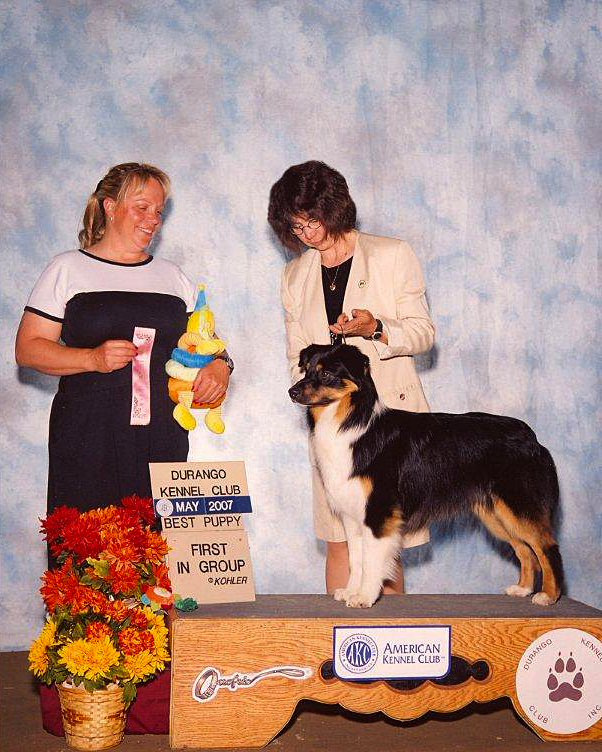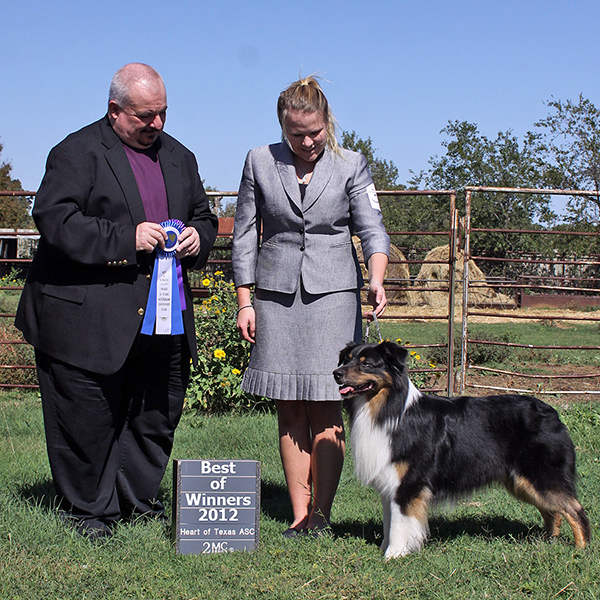 Date of Birth: August 28, 2006
Full Dentition/Scissors Bite
Black Tri Male • Intact
Eyes Cleared yearly
OFA Hips: Excellent (AS-25505E30M-VPI) • AKC DNA : V467677
MDR1: Normal/Normal • Hereditary Cataract Test (HSF4): Clear: AC592
Sam finished his WTCH with a tie on first place ducks. Lisa Bird and I thank Shelly Spotsworthy for all of her work with Sam.
Sam went Most Promising Started (MPS) at the 8th Annual 3-Pine Ranch Classic here in NM. He was also MPS for two of the four days of trials. He came away with his started sheep title and one leg each on cattle and ducks. Steve Shope was his trainer and handler. Sam is pointed in the ASCA breed ring.
Sam was named "Sam" from birth. His approach to life is "Sam I AM". He doesn't hesitate to enter into ANYTHING. With all due respect to his intended namesake, it has been hard to shift his name. Sam is a delight and challenge rolled into one package.
Rockin Ks Bustin' Loose

CH Marquis Hot Gem for Rocking K

CH Seneca Suns War Dancer CD

CH Marquis Diamond In The Rough

Rockin Ks Little Bo-Peep

CH Wayjur of Didgeridu Alibi Too CDX STDds

CH Rocking K War Dancers Princess

Dancer Twist and Shout

CH Marquis Down Under Thunda

Surenuf A Hot Scotch

CH Lil Creek's Bushfire Blonde

CH Black Pearl Ballroom Dancer

CH Marquis Surenuf For Rockin K

Quest Louisiana Black Pearl