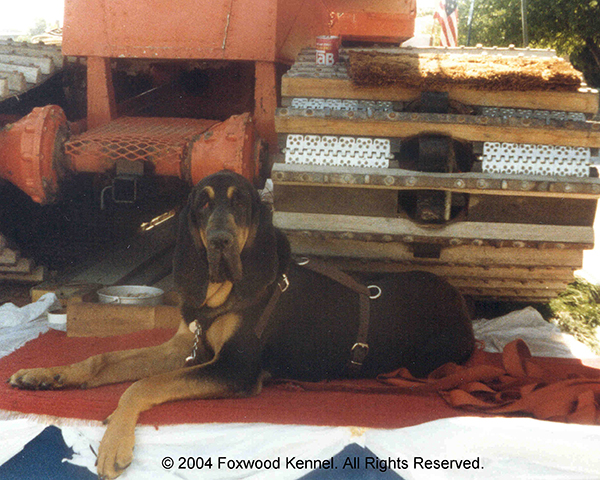 Date of Birth: October 11, 1979 • Died: 1985
Full Dentition/Scissors Bite
Black & Tan Neutered Male
Eyes Cleared yearly
Rebel overcame a rough introduction into this world to follow his mother as an outstanding tracking / trailing hound with our Search & Rescue unit. Rebel's litter was born the weekend that Parvo appeared in Idaho Falls. Despite the heroic efforts of the Anselmi family and the vet's, only two of the thirteen pups lived until their first birthday and Rebel's brother succumbed to a lingering illness before his second birthday. Rebel trained me that he did not care about obedience classes. He did get full points for his long-down at graduation, 'though asking a hound to lie down may not be the hardest thing to do! Rebel, at six months, was one of the youngest dogs at the time in east Idaho to complete their AKC Tracking Dog certification. Rebel proved more than once that he would work a trail until he or I could go no further. Although most of our work was in S&R, Rebel goes down in history as one of the bloodhounds whose work was the basis for the Idaho Supreme Court declaring that evidence obtained through the use of bloodhounds may be used in criminal cases (the other hound was his mother, Bonnie). The article can be viewed by clicking here. Tragically, a burst heart valve ended Rebel's life. I believe that there was probably some damage from his illness as a puppy and also he grieved at the loss his mother, and kennel mate, a month or so before.
CH Waynesford's Eli of Homestead RS

CH Brighton's Vagabond

CH Abingerwood Limetree Pendragon

Omega of Brighton

CH Waynesford Dear Abby of Bakka TD

CH Happiness is Dignity CD TD CAN CD

CH Delburn Bluebell CD TD

Annie of Hilltop Acres

The Hermitage Adam

CH Allyn of the Hermitage

Clubs of Mareve

The Ready's Mopsy

CH Rebel of Hill Top Acres

Windsor's Irish Enchantment