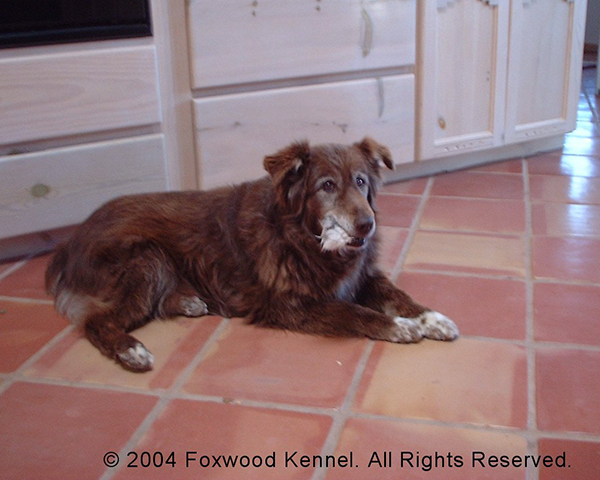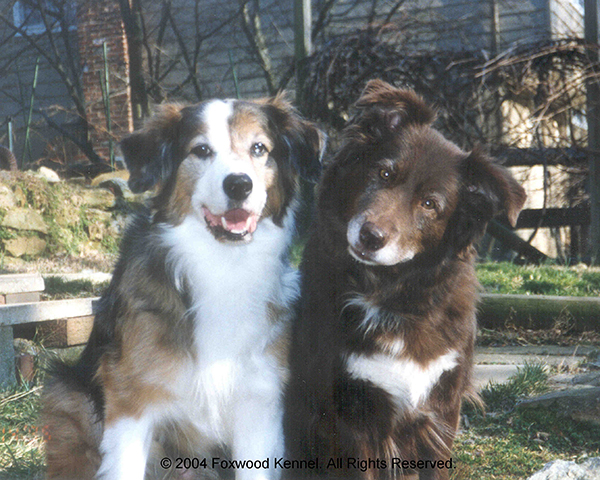 Date of Birth: January 16, 1988 • Died: July 23, 2004
Full Dentition/Scissors Bite
Red Bi Female • Spayed
Eyes Cleared yearly
Height: 21 inches
OFA Rating: Good (AS-4487G24F)
Cori was named after Harry Chapin's song: "Corey's Coming" It was strictly for the line: "My Corey's coming, no more sad stories coming" that she drew her name. She was a happy and serious puppy in which the old bloodlines ran very true. She was devoted to us, mainly Mike. I gave her to him, or rather, him to her for her first Christmas. Cori had pretty firm ideas on how things should be done, who should come and who should go. Coming to our home wasn't the problem….leaving was!!! We had to put her up when guest would go to leave as she would block and or heal them if we didn't. An inveterate pack rat, Cori would "thief" food off of counters, specifically breads (the good kinds), and hide the loaves in places like couches, waterbeds and the backs of closets. As Ninja got older, Cori would make sure Ninja was in the house and safe before she would settle down to sleep. Cori was a wonderful member of our family and she dearly loved her wolfie buddy, Trella, who in turn, looked out for Cori as she got older.
Powder River Cool Hand Luke

CH Powder River's City Slicker STDh OTDc ATDds

CH Slash V Little Rock CD

Doyles Blue Button

Ruff-N-Reddy Powder Puff

CH Jones Reddy Teddy CTX OTDcds

Slash V Frosted Snoberry

Fairoaks Ginger Ale

CH Chulo Rojo of Fair Oaks

Taylor's Whiskey

CH Las Ricosa Leslie CD OTDs CWDg

Fairoaks Kegline Catalina

CH Chulo Rojo of Fair Oaks

Cooters Penny of Mill Creek CDX