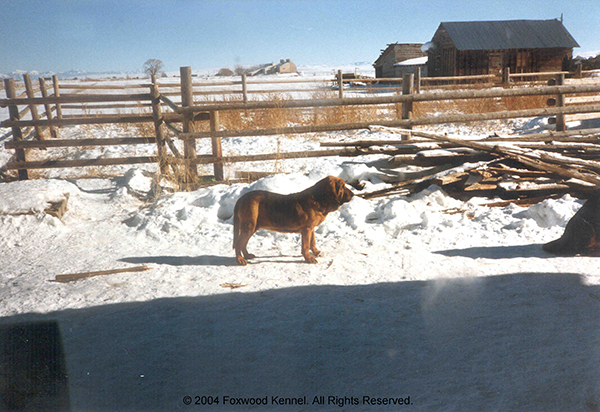 Date of Birth: August 12, 1976 • Died: 1985
Full Dentition/Scissors Bite
Spayed Female
Eyes Cleared yearly
Bonnie came to our Search & Rescue unit named Annie, but was quickly renamed in honor of our County, Bonneville. After obtaining her AKC Tracking Certification as a puppy, she went on to an outstanding career as a tracking / trailing hound. She was in demand not only in our County, but much of southeastern Idaho. There were very few working bloodhounds in that portion of the country at the time, and Bonnie certainly set an example for how useful they can be. At less than a year old, she located the base camp for two missing climbers by following a five day old track with a foot of new snow on top of it. This find redirected the whole search, and the later recovery effort. Bonnie was a sweetheart, as long as you were not a cat (her son inherited this). She was adaptable enough to work for several handlers in her career. In addition to her numerous S&R finds (well over a hundred), Bonnie was one of the bloodhounds whose work was the basis for the Idaho Supreme Court declaring that evidence obtained through the use of bloodhounds may be used in criminal cases (the other hound was her son, Rebel). I fondly remember her and her son sitting together and softly "singing" to the full moon.